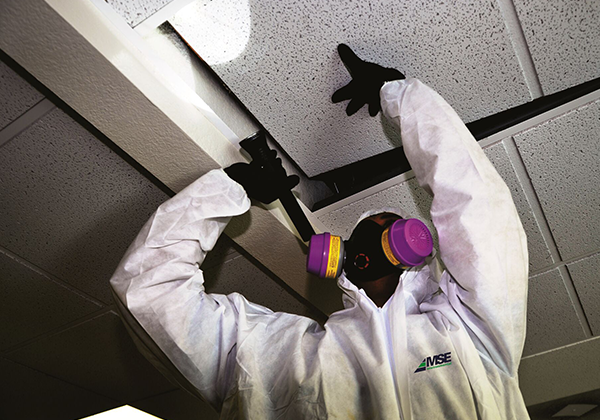 Charlotte, NC Popcorn Ceiling Asbestos Removal
Looking for a professional asbestos removal company in Charlotte? Look no further, Asbestos Extreme is a full-service company providing exceptional popcorn ceiling asbestos removal and many other kinds of asbestos work, big or small.
Our asbestos specialists are experienced and certified to perform popcorn ceiling asbestos removal properly and safely.
Many old residential properties in Charlotte, NC have popcorn ceilings which often contain asbestos and can be extremely dangerous when released.
Do not risk exposure and developing lung diseases. Call Asbestos Extreme today to schedule your popcorn ceiling removal.
Getting Results for Homeowners in Charlotte, North Carolina
Popcorn ceilings were installed in homes before 1990 and contain asbestos, and thus need to be repaired or removed to reduce the risk of long-term respiratory illnesses.
Asbestos Extreme can test tiled and textured ceilings and perform asbestos abatement. If we find the presence of asbestos, our asbestos experts will safely remove the ACM.
Removal and Disposal of Popcorn Ceiling Asbestos
Home renovation requires testing for asbestos. If the property has been contaminated with or has existing ACM, it is essential to remove the material first. Our popcorn ceiling asbestos removal concentrates on removing ACM completely and safely.
Maintenance or Asbestos Abatement
If the popcorn ceiling has not been disturbed, it may not need to be completely removed. Our asbestos specialists will inspect the ceiling and assess the right action to take with ACM. We can secure the popcorn ceiling and repair or refurbish the material to avoid further problems.
Our asbestos specialists will de-popcorn your ceiling, disposing of the material to a licensed facility to ensure your home is safe and comfortable again.
Reduce your exposure to toxic fibers. Call Asbestos Extreme for fast and professional asbestos work.
Popcorn Ceiling Asbestos Is Harmful
Homes that were built from the '50s to early '90s often have textured ceilings. Unfortunately, the sprayed-on texture often contains up to 10 percent asbestos, and any amount of asbestos is dangerous and will cause harm.
What are the risks of asbestos exposure? The amount of money to repair an ACM is nothing compared to the effects of exposure. People who have inhaled asbestos fibers are likely to develop:
Mesothelioma.

Laryngitis.

Compromised immune system.

Chronic lung disease.

Pleural plaques.

Non-cancerous abnormalities.
Letting disturbed asbestos-containing materials remain untreated can result in devastating health problems. Without a proper solution, your problem will simply become bigger and more expensive.
Asbestos Extreme is here to professionally repair or remove the asbestos ceiling. We offer asbestos services that have safe results. Leave your asbestos problem to our qualified professionals.
What Should You Do If You Have Popcorn Ceiling Asbestos in Your Home
Do not panic or try to repair the disturbed asbestos ceiling. Usually, leaving the material alone is the best and safest thing to do. 

Do not disturb the asbestos ceiling with screws, nails, or tape.

Be careful not to scrape the popcorn ceiling, especially when moving pointed objects.

Peeling or falling popcorn ceiling should be encapsulated. And it should be completely removed by a professional.

Limit access to the room or space. The disturbed popcorn ceiling asbestos must be left untouched.

Call a popcorn ceiling asbestos contractor in Charlotte, NC who can properly inspect, repair, or remove the asbestos ceiling.
It is difficult to tell whether a material has asbestos or not. But identifying asbestos ceilings is easier since they have distinct textures. Often, popcorn ceilings or stucco ceilings contain asbestos. If you want your popcorn ceiling tested for asbestos, call the professionals.
Asbestos Extreme Process for Popcorn Ceiling Removal in Charlotte, NC
Here is what our Charlotte popcorn ceiling removal entails:
Securing the room or space where the damaged popcorn ceiling is located.

Removing the furniture and covering appliances or equipment with plastic.

Sealing the exits and entry points of the room or area.

Keeping all people, especially children, and pets away from the work site.

Using protective gears and respirators to efficiently and safely perform asbestos work.

Following local and federal asbestos guidelines to avoid accidents and further problems.
Asbestos Extreme seeks to help homeowners have a beautiful, safe, and comfortable home. We are experts in asbestos removal and are trusted by Charlotte, NC communities. Let us have a chat about your asbestos needs!
Work With Asbestos Extreme
Do not let disaster strike before you talk with a professional asbestos contractor. Expertise and efficiency are two things needed when an ACM is disturbed or needs to be destroyed.
Asbestos Extreme handles all kinds of asbestos work including popcorn ceiling asbestos removal.  We use only safe asbestos solutions for maintaining or eliminating ACM from residential homes. Chat with our asbestos experts today.
Email
info@asbestosextreme.com
Hours
Mon – Fri: 10am – 9pm
Weekends: 10am – 3m